Strategy Machinery currently has 11 sanding machines in stock:
Edge Sanders
Oakley Edge Mdl M684 Sander


Widebelt Sanders
Opti-Sand R43V Rotary Sander
(2) Nash 85 Curved Parts Sanders — SOLD!
Timesaver 2-Drum Widebelt Sander
Timesaver Single-Head Abrasive Planer Sander
(2) Nash 85 Curved Parts Sanders — SOLD!
Cemco 43" Drum Platen Widebelt Sander
Cemco 3000 Series Planer Sander


General Parts Sanding Machines
(5) BHM Pump Drum  Sanders
OPTI-SAND R43V ROTARY SANDER — SOLD!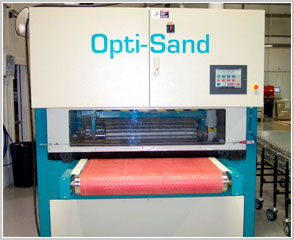 S/N 183908
460 V/ 3Ph/ 60 Hz
All standard features
All spindles are loaded w/ flex trim hubs & loaded w/ double sided sandpaper-220/280 grit
(4) spindles:  (2) spindles are 900 mm and (2) spindles are 1200 mm
(2) spindles rotate clockwise and (2) spindles rotate counter-clockwise
Spindles are variable from 60-600 RPM by frequency inverter
Max. sanding width:  40"
Motorized up/down adjustment for the sanding heads
10 HP variable vacuum holddown system
Conveyor belt adjusts from 4 to 44 FPM
Touch-screen control panel for monitoring all functions
Machine sold new March 23, 2010
F.O.B.  New Tazewell, TN
MODEL M684 OAKLEY EDGE SANDER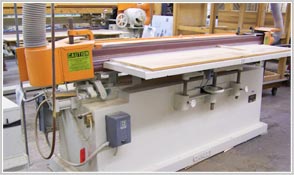 S/N 5015
3Phase / 480 volts / 10 HP
9-1/2" x 84" Platen,  2 sides
Table Size:  20" x 86"
(2) Dust hood – 16" Outlets
Non-oscillating
TIMESAVER SANDER — SOLD!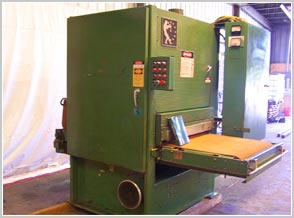 Model 337-2HD
S/N  #10945 (1981)
50 HP 1st Head Steel Drum – 11-1/2" dia. Steel
30 HP 2nd Head Rubber Drum – 11-1/2" dia. Steel – 60/70 Durometer
Belt size:  36" x 103"
Electric eye tracking
Power raise and lower of conveyor feed belt
Conveyor belt in new condition
Sander will open to 6" in heigth
3Ph, 460 Volt presently
TIMESAVER SINGLE-HEAD ABRASIVE PLANER SANDER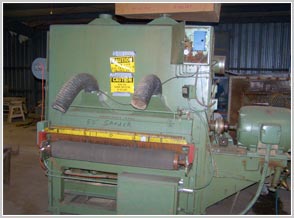 CEMCO 43" DRUM PLATEN WIDEBELT SANDER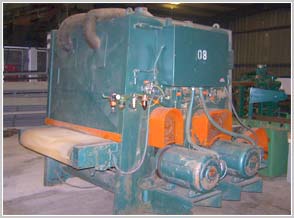 CEMCO 3000 SERIES PLANER SANDER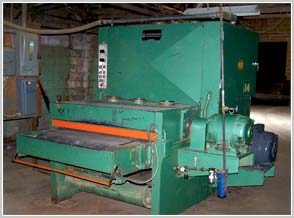 Belt Size:  43" x 103"
Material capacity 6" high – 43" wide
Spring loaded feed shoes
Planer head – Cemco, segmented, staggered, carbide for quieter operation
Feed speed 17 – 45 FPM
Comes w/ grinding stand that easily mounts on machine for sharpening your carbide – brand new   diamond grinding wheel included.
Electronic Eye tracking & electronic eye w/ braking system for belt run-off (electronic eye system just installed new).
Floor space required 8'2" x 11'2"
Machine comes w/ professional dust pipe spider to connect to main line
Motors:  30HP staggered carbide planer head, 440 volts
60HP steel drum sander head, 440 volts
Conveyor Belt – Heavy smooth surface
Machine made for vibration free planer – sanding machine weighs 13,000 lbs.
Machine has been gone thru by Cemco Tech
PRICE:  $32,000.00
NASH 85 CURVED PARTS SANDER — SOLD!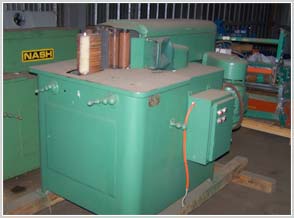 All sanding machines F.O.B.  New Tazewell, TN